Lehigh Valley's Best Ice Cream Shop
Around 1950, Hickory Valley Farms opened up a butcher shop in this building (you can still see the name on the front concrete stoop). And then in the 1970's, Mr.Harold Wetzel bought the property, expanded the building, and it became the new home of Ronnie's Lawn Mower sales and service. (Most of the local residents remember the building because of the tractor that was on the roof.) Ronnie decided to retire (and make a lot of loyal lawn mower repair customers unhappy) right around the time Penny and Tony Caciolo, also from Coopersburg, had the idea to open an ice cream and coffee shop.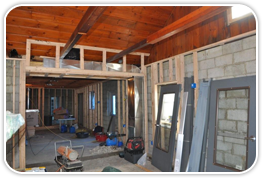 After spending countless nights watching their son play baseball and football on the 45 acre sports fields that are behind the building, the Caciolos' realized that there was NOWHERE to take the kids after games for a celebratory ice cream cone. In addition, there was nowhere to get a good cup a coffee on a chilly football game evening or Saturday morning.
After scouring the area for suitable locations for an Old Fashioned, family run, locally owned Ice cream parlor, the current building was found. (It was hard to miss, since it is attached to the baseball and football fields!) Because of the cooperation of the Wetzel family, it appeared that The Inside Scoop had a found a home. Or so it was thought.
Then it was realized that a zoning approval was needed because of the unusual residential zoning of this property. After a few meetings, the Coopersburg Mayor, Jonathan Mack, the chief of police, Daniel Trexler, the zoning board, and the borough council gave this project their full support and blessing, so the project was able to move forward. Everyone expected a bureaucratic nightmare, but Coopersburg proved why they are such a great little town.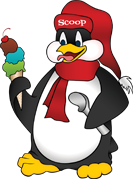 After about 5 months of intense building rehabilitation, The Inside Scoop was born. The philosophy of giving a superior product at a fair price in a friendly, fun atmosphere that helps you forget the worries of the world and escape into your ice cream or coffee, was finally a reality. The memories that the 2 owners (Penny and Tony) had of growing up together in Emmaus and visiting the local ice cream shop on dates when they were 15 seemed to be almost impossible to create in this busy day and age. But it appeared that this impossible task was becoming a reality.

The Inside Scoop hopes to create some lasting memories for you as well. Whether it is trying to eat one of our 14 scoop smoking volcano sundaes with your best friends, watching a movie in our lounge, or just relaxing in our living room and playing shuffleboard with family and friends, we hope to provide you with some very memorable experiences.